I'm shipposting this everywhere I can and I really don't care.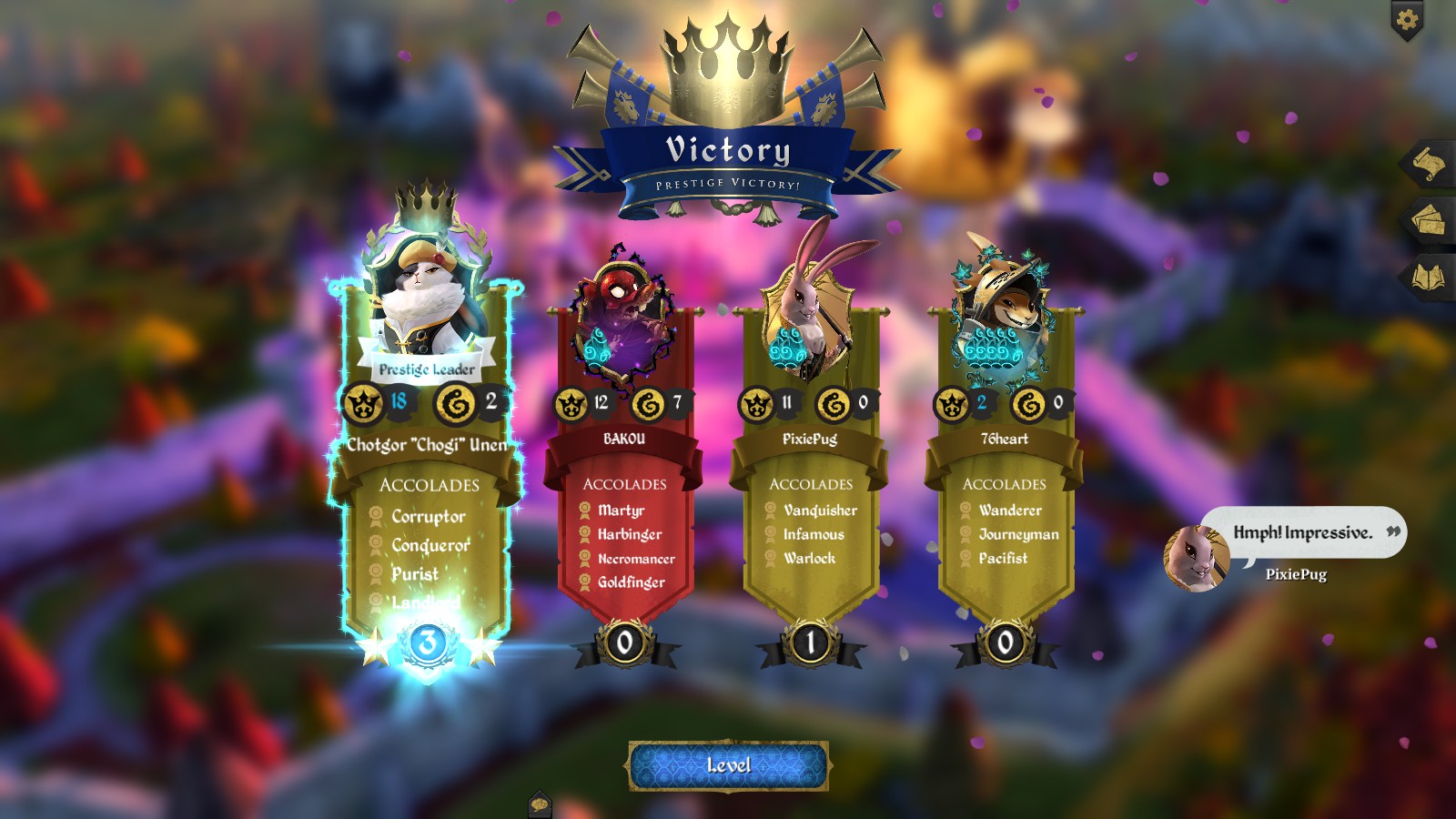 I recreated the Donald Trump election in Armello
So the story behind this game
From the start of the game the RNG was just screwing with me. I made fun of Sargon
(second place - He's the only rat in a game of 3 rabbits)
and he started beating the tar out of me while I was struggling to stay relevant. I was just barely scraping by until the end where I had 4 Settlements and 10 Prestige.
(Compared to Sargon's 15)
Then Sargon died a bit. In particular he died killing a King's Guard, which lowers your Prestige by 2. That along with another death put his 15 Prestige down to 12. Not a big problem. Or so he thought.
Because this entire time I had a Lord's Scepter in my inventory, that would give me +1 Prestige per settlement when equipped! I have 4 Settlements and 10 Prestige, so 10 + 4 = 14, and 14 > 12. Equip that nonsense and suddenly I'm in the lead.
I go to fight Barnaby
(stole my settlement >:V)
and get 2 Prestige for beating his face into the ground, along with one more for the settlement. 16 Prestige. Go hide in a Stone Circle to heal myself.
Barnaby comes back with guns like "Fight me!" I'm like "lolplz I'm just going to go get more Prestige." Do my quest and get +1 Prestige - 17 Prestige. Go hide in the woods so Sargon can't snipe me.
Apparently he had a global teleport and he tried to beat my ass by hand. I mean, he succeeded, but I was still at 16 Prestige while he was at 13. He then died to a Bane and went back to 12.
Next turn the King died and I got 2 Prestige from Patronage and Industry or something. Regardless: I won with flying BS.
So in short: I was nice to the people I liked and a jerk to minorities so I got beat up by the one who was the most likely to win. The one who was the most likely to win screwed up, allowing me to take the lead. I then stepped on a few more people on my way to power and by then it was too late to stop me. I took the seat of power of the great nation.
I recreated the Trump election in Armello.
The Donald Trump Rabbit lives on.
"I will rebuild Armello."
_________________
I was Chogi.
[Post brought to you by GuyBrush]
Awesome
[Femme
Fatal]
(Chinese Ripoff Space Jam)
Naut
Not a
Mafia stats.