Post No. 3: Killer Koalas Rocket Renegades, Wicked Coco and Shy Smiles.
* Loads of explainations and headcanons ahead, feel free to skip.
A - Killer Koalas Rocket Renegades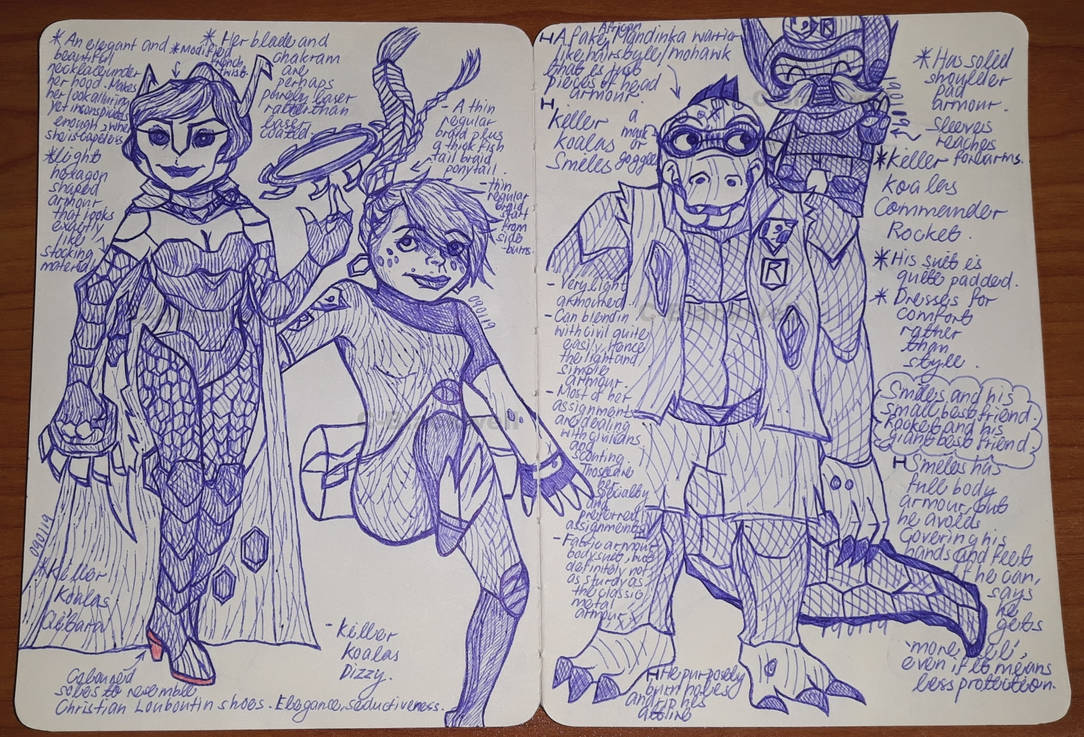 I like Killer Koalas design. So, I imagine an alternate universe in which the Rocket Renegades join Killer Koalas. They are just designs for fun, and I am very certain that if they were to have official Killer Koalas design, it will be much, much better designs than mine.
Now, headcanons and explainations part, you may skip this wordy part if you desire.
All the members wear Killer Koalas and Rocket Renegades logo on their uniform/armour. to show their allegiance.
I imagine Rocket Renegades as a very small sub division of Killer Koalas, should Killer Koalas undertake missions that require a team with a variety of skills and really good communication and synergy, Rocket Renegades is always chosen.
In this alternate universe of my imagination, most of the things are pretty much the same as the canonical story, save for a few changes. Rocket Renegades joined Killer Koalas, a group of elite (and perhaps heroic and noble) soldiers, instead of the canonical Awesomenuats. Rocket Renegades is formed before they join Killer Koalas, perhaps when they escaped from Scargo Military and the Scarg Emperor from a crime that they did not commit.
Overall, Qi'Tara's armour is more inconspicuous, and less sharp and femme fatale looking, more emphasis on elegance. I also think that I made Qi'Tara a bit too French looking.
Dizzy's armour is quite inspired by Cyber G's, albeit with some changes. Her overall design is also slightly inspired by 1990s to early 2000s fashion.
Smiles and Commander Rocket's design might be a bit bland, due to me not having much ideas for them but also do not want to leave them out of their fellow Renegades dressing up as Killer Koalas.
Not much ideas for Smiles' design, other than having always wanted him to wear a mask or goggles. Smiles' design is mainly inspired by B. A. Baracus (The A Team). I am pretty sure that his faux mohawk/African Mandikan warrior hair, which is also "hair"/armour can be weaponised, pretty sure headbutting anyone with that is painful. I also don't know if I want to put jewelleries on him, like B. A. Baracsus, but I ended up opting against it. Smiles purposely burn his shirt and his shorts for aesthetics purpose, however, some of the burns and rips are completely unintentional, from missions, trainings and so on. Why do Smiles wear ripped shirt and trousers over his armour? Quite similar to how he would not wear armour over his hands and feet if he can so that he can feel the world more. He just finds that the armour that he needs to wear, looks too polished and doesn't look exactly like him, even though the armour is wore out of necessity, for protection since he always fight enemies at a very close range.
Not much ideas for Commander Rocket's design too, but I was thinking of Dokkaebi's and Vigil's armour from Rainbow Six: Siege, and also the blast suit, but still retaining mobility. I also just want him to be cute and padded. I don't know, Rocket gives me an impression that he might be someone who is a bit of an eccentric and also funky. Perhaps he opted for a darker coloured head prosthetics this time, with tuffs at his "ears" part, looking like a koala, befitting Killer Koalas' mascot, he is tiny! XD And I am sure he is fit to be called an elite soldier. A koala on the jazz!
I might work on the design if I have time and still am interested in them.
B - Wicked Coco and Shy Smiles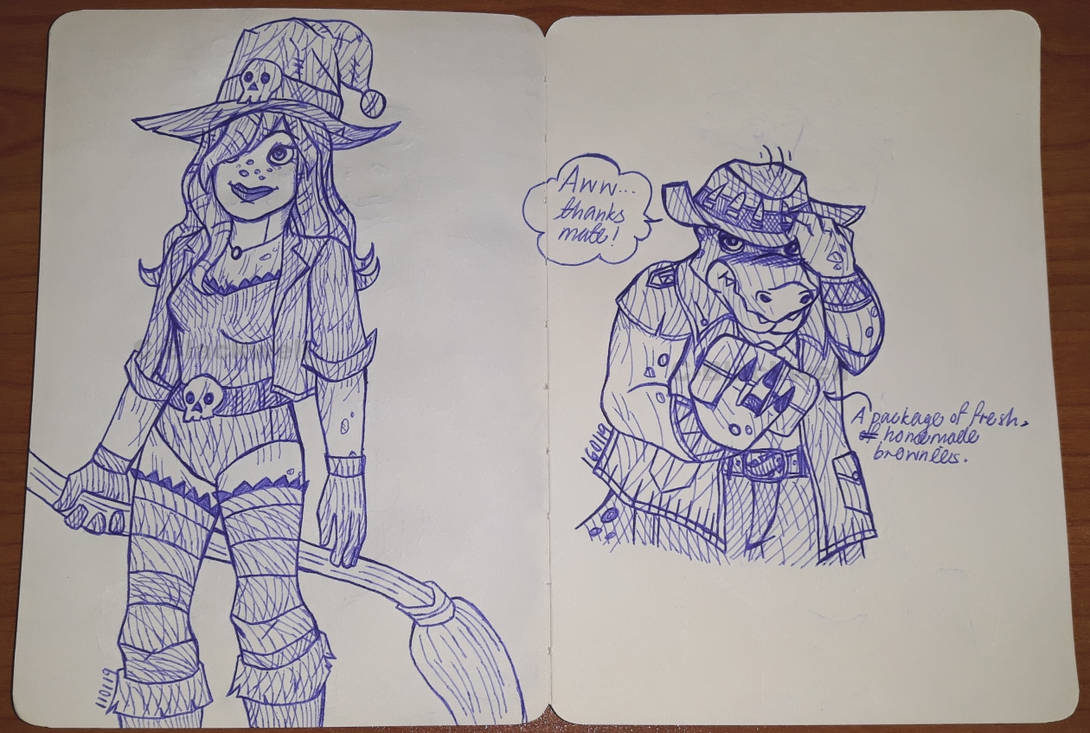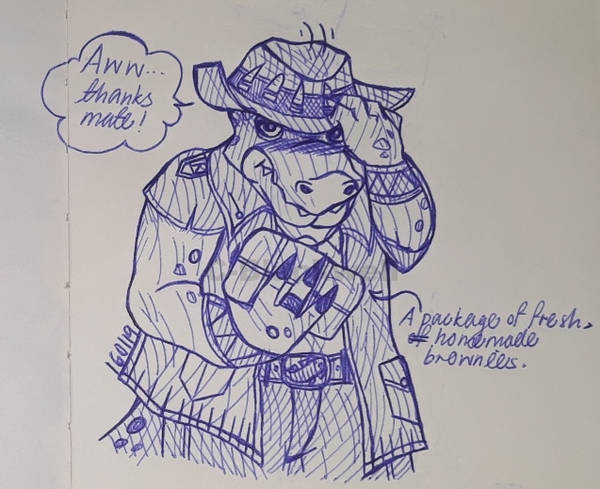 These two drawings are actually not related at all, but if I were to crop out Wicked Coco by itself, it will look very awkward due to Smiles' speech bubble getting in the cropped image. And I am also trying to avoid over-cluttering my drawing book per page.
I tried to make Coco a little bit more curvaceous and fuller but failed. Looks like we will have a Coco who is somewhat akin to Cindy Crawford during 1980s then. Pretty sure her broom is bendable.
Also, do you know that I made a dumb mistake of mistooking Smiles as a crocodile when he clearly states that he is an alligator when asking for help? No wonder I keep on wondering why he looks so smooth when I compared him to photos of crocodiles.
Pun, intended, shy Smiles. Smiles making a shy smile.
So, I imagine...
Smiles is intimidating looking because...
1. He is an alligator.
2. He hunts a lot of things.
3. His tendency to burn things.
4. The prosthetics that he has.
It is actually quite rare that people look pass his intimidating exterior and find his sweet and soft heart inside, so, whenever someone does that, he tends to melt inside, sometimes he shows it, sometimes he doesn't. But, he will definitely melt completely when someone not only likes him for who he is, but even gives him a present as precious as a parcel of fresh homemade brownies.
Feel free to imagine who the giver of brownies is. Can be a secret admirer, a friend or anyone.
And thank you very much if you take your time to read all the explainations and headcanons of mine. If not, regardless, thank you for visiting my drawing book thread.